World's former oldest twin Ena Pugh dies aged 104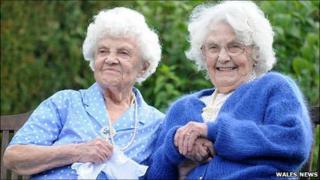 A woman who was once one of the world's oldest twins has died two days after celebrating her 104th birthday.
Ena Pugh, from Erwood in Powys, died at Hereford County Hospital on 6 January.
Mrs Pugh and her sister Lily Millward were named as Guinness World Record holders for being the world's oldest twins in 2010.
But they lost the title two years later when it emerged that twins from Scotland were 50 days older.
Mrs Millward, who is recuperating in Nevill Hall Hospital in Abergavenny, after a fall at her home near Brecon last week has been told of her sister's death.
Queen Victoria
Mrs Pugh's daughter, Pauline, said her mother had lived at home until she was admitted to hospital after a fall six weeks ago,
"She enjoyed her birthday on Saturday when we took her cards and a present," said Mrs Davies.
Farmer's daughters Mrs Pugh and Mrs Millward were born on 4 January, 1910 when Queen Victoria's son Edward VII was king.
They took the record from two French sisters, Raymonde and Lucienne Wattelade, who were 98 years old at the time.
But they lost the title when it emerged that 102-year-old sisters Edith Ritchie and Evelyn Middleton, from Aberdeenshire, Scotland were 50 days older than the Powys twins.
Mrs Pugh's funeral will be held at Erwood Baptist Chapel next Tuesday.