Public meeting discusses Llandysul sports society cuts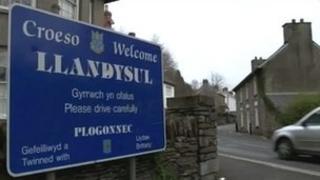 A council plan to pull the plug on a £20,000 grant to a town's sports society will be discussed at a public meeting.
Cymdeithas Chwaraeon Llandysul faces the cut as part of Ceredigion council's plan to save £9.6m next year.
This is the second public meeting to discuss cuts to the town's facilities in a month.
In December the town's swimming pool was thrown a lifeline by locals who pledged cash to keep it open.
The council intends to remove the cash subsidy for the sports society as part of a plan to save £146,000 by withdrawing maintenance of sports grounds in the county.
The proposal will also terminate the annual maintenance of Penparcau Football Club in Aberystwyth and bowling greens in New Quay and Tregaron.
Llandysul county councillor Peter Evans, who will chair the public meeting, said the town had been hit hard by funding cuts.
"This has been a terrible time for people who take part in sport in this area," he said.
"Losing this funding will mean we will have to roll up our sleeves to try and maintain standards in the town.
Pavilion and grounds
"The facilities and park run by the sports society has an effect on the local economy which includes attracting families to live in the area."
The council subsidy helped the sport society maintain a pavilion and grounds which are used by the town's football, cricket and bowls clubs.
In December more than 125 people signed up to help fund the town's swimming pool by pledging to pay at least £10 a month to keep it open.
It followed the announcement that Ceredigion council was withdrawing its annual £33,000 grant.
The pool's trustees are now trying to set up a plan to secure the long-term future of the pool, which has 12 members of staff.