Powys education service improves at 'considerable pace'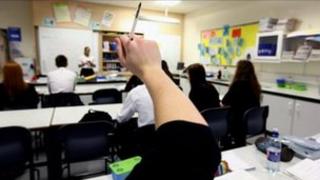 School inspectors have praised Powys Council's efforts to improve its education service after a critical report 15 months ago.
Inspection body Estyn told the council to make "significant improvement" to its education service in October 2012.
But an interim report by inspectors praises the "considerable pace" of improvement since then.
It added that a collaboration with Ceredigion council officials had been an "enterprising" move.
Estyn has been monitoring the council's education service since February 2011 when inspectors decided it needed continual monitoring.
In October 2012 Estyn decided the service should be placed in the category of an authority "in need of significant improvement".
'Enterprising decision'
Three of the schools watchdog's inspectors returned to monitor the education service's performance last October.
But a letter from Estyn's assistant director, Clive Phillips, to the council's chief executive, and director of education, Jeremy Patterson, now reveals the local authority has made improvements "at a considerable pace" to address five recommendations made by a previous inspection.
Mr Phillips praised the local authority for its "enterprising decision" to approach Ceredigion council to collaborate in making improvements.
Mr Phillips said; "The involvement of officers from Ceredigion has made a significant difference to the progress made by the council, the schools' service and the authority's schools."
In October 2013 the cabinets of Powys and Ceredigion councils agreed in principle to create a joint education department.
The plan for education is the latest development by Powys and Ceredigion councils to form closer ties.
Special measures
In 2011, the authorities' social services departments announced plans to work together, while their highways departments already have close ties.
In 2012 they signed a joint 15-year contract with a company to recycle 10,000 tonnes of food waste a year.
There are currently six local authority education departments in special measures - Pembrokeshire, Torfaen, Blaenau Gwent, Anglesey, Monmouthshire and Merthyr Tydfil.
Powys Council is currently the only education service that is in the "needs significant improvement" category.
An Estyn spokesman said inspectors will monitor the authority's progress again during the summer term.
A Ceredigion council spokesman said: "The partnership between Ceredigion and Powys is now well established, with benefits being seen in both counties."
An Estyn report on Ceredigion's education service will be published in March.