Wales weather: Student digs evacuated after high tide fears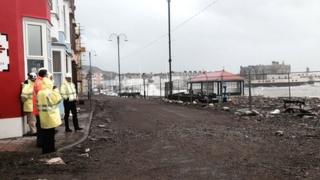 Hundreds of students had to evacuate their accommodation after fears over another high tide at Aberystwyth.
The students, who all live in homes on the sea front, were told to leave following a flood warning.
It was the second time in 72 hours for some of those affected after the town was battered by high waves which severely damaged the promenade.
Students yet to return after the Christmas break have been told to stay away until the area is safe.
Aberystwyth University those who live in seafront accommodation should not return until it issues an update about the situation on Wednesday.
It said the seafront accommodation would remain closed overnight.
About 150 students resident in the university's sea front halls and another 100 living in private accommodation relocated to the university's campus on Monday morning.
Fred Till, a second year International Politics student who lives in private accommodation on the seafront had to leave his home on Friday night and Monday morning.
"I had time to pack my sleeping bag and water proofs before leaving the house on Friday evening," said Mr Till.
"There was a little bit of water in the front porch when I returned on Saturday but there wasn't too much damage.
"But the sea water had reached the pavement outside my front door on Monday morning so I followed advice to leave the house again."
Aberystwyth Student Union organised a 16-strong volunteer group to provide information and help to those students affected by the evacuation.
One of the volunteers, Rhiannon Edmunds, said: "We needed to ensure that students knew how to get to a safe place and what communal sites were available.
"Some students ignored the university's request not to return to Aberystwyth last weekend which has meant that more people had to be evacuated on Monday."
Fellow volunteer, Richard Fulloway, who lives opposite the pier on the seafront, said: "Twitter and Facebook has been invaluable in providing weather updates as well as letting students know which businesses are open.
"We'll carry on providing help for as long as we're needed."