'No blank cheques' for Aberystwyth promenade's repair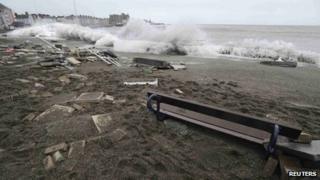 No "blank cheques" will be available for the rebuilding of Aberystwyth's storm-damaged seafront, Natural Resources Minister Alun Davies said.
But he said emergency funding was available and has told Ceredigion council to apply to ensure the promenade was fixed by Easter.
Mr Davies described the wrecked seafront as the "jewel in the crown" of the county's tourism trade.
The repair costs were not yet known but damage was significant, he said.
He told Radio Wales: "We will need to look at where the priorities are.
"Is money available? The answer is yes. The next question of course is: Is sufficient money available?
"The answer is I don't know. I hope it will be. I will be managing that budget actively."
The race was on to ensure the seafront - wrecked by waves as Wales was battered by storms overnight on Friday - was fixed in time for the Easter holiday, he said.
"If you take the prom in Aberystwyth, that is the jewel in the crown of Ceredigion's tourist industry," Mr Davies said.
"And that is an economic driver as a well as a beautiful place and a significant part of the town of Aberystwyth.
Rocks and debris
"We need to be able to invest in the prom to ensure that the economy of Ceredigion continues to function.
"And we will seek ways, using for example European funding, for us to do that."
Mr Davies said the costs of rebuilding were not yet known but he believed the damage to be "significant and structural".
The promenade was hit by a tidal surge on Friday evening and the storm brought rocks and debris onto the front and nearby streets after high tide.
Homes on the coast around Aberystwyth - including students on the seafront itself - were evacuated ahead of high tide.
As the clean up operation got under way, Ceredigion AM Elin Jones told BBC Radio Wales the job was "bigger than what one local authority can deal with".
Defence schemes
She said the national government and Natural Resources Wales (NRW) needed to come together to work out the "short-term strategy for making the prom safe and accessible for locals and tourists".
"And then the longer term work that needs to be undertaken to defend Aberystwyth from the effect of climate change and the devastating storms that are hitting this west Wales coastline."
Andy Wall, flood forecasting manager at NRW, said that £20m had been invested since 2006 in coastal flood defence schemes and forecasters were able to inform the public of storms days in advance.
He said flood investment was prioritised for communities most at risk.
"There is a limited funding available although, to be fair, in Wales we've benefited from additional Welsh government funding over the next two years to invest further in flood defences, which is very welcome. But as always we have to prioritise where the risk is greatest," he said.
Meanwhile, Swansea West Labour MP Geraint Davies has asked the UK government for Wales to receive a bigger share of contingency funding for flood damage so it reflects the size of the Welsh coastline.
Mr Davies, who used to chair Flood Risk Management Wales, said a population-based formula would give Wales just 5% of funds despite having a coastline that was 25% the size of its English counterpart.