Drunk new year sea swimmer at Aberystwyth fined £90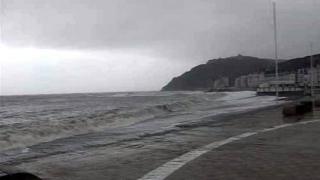 A swimmer who sparked a rescue after trying to swim in 15ft (4.5m) waves on New Year's Day has been fined £90.
The local man was given the fixed penalty notice after being arrested for being drunk and disorderly at South Beach in Aberystwyth.
The town's RNLI inshore lifeboat was about the launch when the man, who was wearing a wetsuit, struggled back to shore.
Coastguards warned against taking a New Year's day dip in stormy seas.
On Wednesday Milford Haven coastguard said the man's actions "may just have been in high spirits but it was not in good judgment".
The RNLI crew and Aberystwyth's coastguard were mobilised and the police and ambulance services called.
Police were first on the scene and held the man after he managed to make his own way out of the sea.
The lifeboat crew was stood down just as they were about to set off and the coastguard team was also stood down.