Go-ahead for Welshpool's motte and bailey castle plan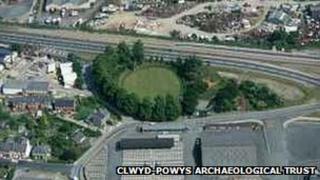 Plans to convert a 900-year-old castle in Powys into a tourist attraction have been given the go-ahead.
Welshpool Town Council has signed a 25-year lease with private owners of the land to run the site.
Powys Council is in partnership with the town council which hopes to open the location for visitors by Easter 2014.
Work at the 12th Century motte and bailey castle will start in the new year.
The project will include a car park, new walkways and interpretation boards so people can explore the medieval castle and learn about its history.
Welshpool Town Council clerk Robert Robinson said opening castle to the public would provide another tourist attraction for the border town alongside Powis Castle and the Welshpool and Llanfair Light Railway.
He added that finance for the project followed an agreement with supermarket giant Tesco as part of its deal to open in the town and the European-funded Severn Valley Regeneration Project.
"The town council will run the site once the work has been finished by the county council," said Mr Robinson.
The castle, also known as Domen Castell, was Welshpool's first castle and is now occupied by a bowling green and surrounded by trees.