Charities plan to reopen Rhoserchan rehab centre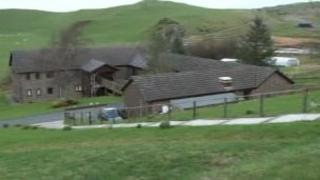 A consortium of Welsh charities is looking to reopen a drug and alcohol rehabilitation unit in Ceredigion which closed because of financial problems.
Rhoserchan centre went into voluntary liquidation in April 2013 due to money problems and a lack of referrals.
But now six charities are working to try and open the unit near Aberystwyth.
They intend to ask the Welsh government to help fund the project in the new year.
Drug and Alcohol Charities Wales (DACW) has completed its business plan to reopen the unit for up to 30 residents.
The project is being led by two substance misuse charities, Kaleidoscope and Cais.
Clive Wolfendale, of Cais, said: "We've been in discussions with the liquidator and estate agents with a view to buy and refurbish the project.
"The site has many strengths which would create jobs in the area as well as provide life and job skills for residents."
He added that DACW intended to put in "a significant amount of money".
James Varty, of Kaleidoscope, said the charities would try and access funds from a Welsh government capital grants scheme for drug and alcohol misuse projects.
He added: "We need to ensure commitment from providers in Wales to make the project cost effective."
Rhoserchan was a residential centre and opened new premises eight miles (13km) to the north-east of Aberystwyth in 2007 after receiving £550,000 of European funding.
In 2011 Rhoserchan's manager was critical of the lack of referrals to the unit by councils and other agencies.
She said some Welsh patients were being referred to centres in England and people were not being sent to rehab when they should be.
The Welsh government said at the time that people were treated in England when it best suited the individual.
A Welsh government spokesperson said: "The proposal being developed by voluntary substance misuse providers, including Cais and Kaleidoscope, for the Rhoserchan drug and alcohol rehabilitation unit is yet to be approved locally by the Dyfed substance misuse area planning board.
"The Welsh government is awaiting the formal application. When received, it will then be considered for funding from the substance misuse action fund - capital."
DACW hopes to reopen Rhoserchan in 2014.