Cardigan post office closure sparks anger in town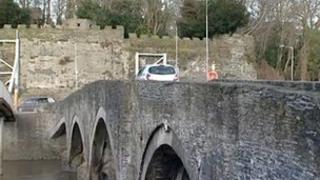 Community leaders claim the people of Cardigan have been left high and dry after the town's post office closed without warning.
Mid and West Wales AM Joyce Watson claims the closure last Friday has affected pensioners and others who depend on social security payments.
Local Ceredigion councillor Catrin Miles has called on the Post Office to set up a mobile unit in the short term.
The Post Office says it is "working hard" to restore the service.
Ms Watson said she was told the Cardigan post office had closed due to "unforeseen circumstances", but she believed such a phrase was "just not good enough when it comes to something like the Post Office".
"As well as causing disruption for customers and local businesses, the closure has affected pensioners and others who depend on social security payments," she said.
"They have been unable to access their money in the run-up to Christmas.
Maintaining services
"The timing couldn't be worse. A constituent contacted me to say she will not be able to draw her pension money before Christmas."
The Labour AM added the Post Office had told her that a mobile service could be set up in the town between Christmas Day and the New Year.
Local councillor Ms Miles said the Post Office had promised to ensure that the nearest alternative branch two miles away at St Dogmaels in Pembrokeshire would have enough resources to cater for extra customers.
"But that involves a time-consuming journey by public transport with an hour-long wait for the return bus," she added.
"A mobile unit should be installed as soon as possible."
A Post Office spokesman said: "We would like to apologise for any inconvenience caused to customers by the temporary closure of the Post Office branch in Cardigan.
"We would like to reassure customers that we are working hard to restore the service to the community as soon as possible and are committed to maintaining services in the area.
"In the meantime, customers can access services at any Post Office with our branch at High Street, St Dogmaels, being the closest."