Health service report for mid Wales ordered by minister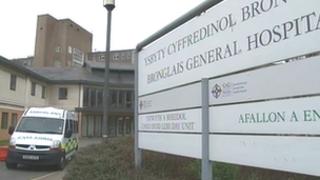 The Welsh health minister has decided to order a report on the future of health services in mid Wales.
Mark Drakeford's move comes in the wake of a meeting with Ceredigion AM Elin Jones and a delegation of senior clinicians from Ceredigion and Powys.
They urged the minister to consider the particular needs of the sparsely-populated, largely rural counties when planning future health services.
BBC Wales has asked Hywel Dda and Powys Teaching Health Boards to comment.
Mr Drakeford confirmed he had decided to commission an independently-led piece of research into the future shape of health services in the region in a letter sent to Ms Jones on 19 December.
'Rural setting'
Ms Jones, the Plaid Cymru spokesperson on health, said: "I'm heartened by the health minister's positive response to the delegation of respected clinicians whom he met last month.
"This decision confirms that the minister accepts that there are unique and specific challenges faced by a rural hospital and its catchment area.
"There is a huge gap between the hospitals along the M4 and A55 corridors in Wales, with only Bronglais Hospital in Aberystwyth in between.
"The kinds of solutions which are relevant in urban areas aren't always applicable to us.
"We face huge challenges over issues such as how to attract staff to Bronglais Hospital, how to ensure that GPs can train locally and be appointed to take over when family doctors retire, and how the NHS interacts with other services in a rural setting.
"It's essential that this research is independent of the health boards, and consults fully with local medical practitioners."
The development comes after Ceredigion council decided to pass a motion of no confidence in Hywel Dda Health Board earlier in December.
This followed the health board's decision to close Cardigan community hospital to inpatients.
The hospital will remain open to outpatients but beds will be provided in nursing homes in the community.
The health board insists no beds will be lost to the county, with a new hospital in the pipeline.
A deal has been struck to open a £20m hospital in the town in the future, which includes a GPs' surgery.
More than 2,500 people have signed a petition to reverse the health board's decision which was launched by the Friends of Cardigan Hospital and Cardigan Town Council on 13 December.
A Welsh government spokesman said: "The Health Minister will commission a study to look into the issues and identify potential solutions for providing accessible, high quality, safe, and sustainable services to meet the specific needs of those living in mid Wales.
"The minister is expected to announce further details in the New Year."