Aberystwyth power cut hits town centre shops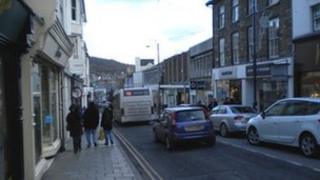 Traders are counting the cost after a power cut forced most shops in the centre of Aberystwyth to close on one of the busiest shopping days of the year.
ScottishPower said a faulty cable caused the problems which affected stores in Great Darkgate Street on Sunday afternoon.
Many businesses decided to close during the hour and a half of power loss.
But at least two shops stayed open and served customers by candlelight.
Aberystwyth Chamber of Commerce chair Chris Mackenzie-Grieve said: "This has hit traders hard on the busiest Sunday of the year.
"We run a cafe and we had to close because you can't make coffee without any electricity."
'Spirit of Arkwright'
But Ceredig Davies, who runs the Mona Liza gift shop in Great Darkgate Street, said he decided to stay open.
"In the spirit of Arkwright we decided to serve people by candlelight until the power came back on," said Mr Davies, referring to the miserly character played by Ronnie Barker in the BBC comedy series Open All Hours.
"Poundland up the street stayed open and used candles as well but it was easier for them to stay open because everything costs a pound."
A ScottishPower spokesman said: "A cable fault in Baker Street, Aberystwyth, caused the power failure at 12.46pm on Sunday.
"We apologise for the inconvenience to traders but our engineers managed to restore power by 2.14pm."