Powys Council could axe up to 300 jobs in £20m cut plan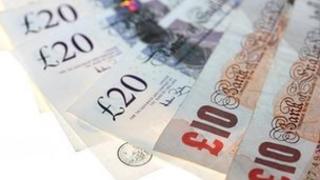 Up to 300 Powys council workers are likely to lose their jobs as part of the local authority's plans to save £20m next year.
The council has announced a four-pronged approach to tackle a £40m funding shortfall over the next three years.
The plan includes service cuts, a possible hike in council tax and increasing service charges.
It also aims to replace some staff by providing automated services.
The authority is facing a budget shortfall, in common with other councils in Wales, after a 4.5% cut in overall funding.
It currently employs am equivalent of 5,000 full-time jobs.
Council leader David Jones said the scale of budget pressures meant that some services would no longer be provided by the authority.
He added: "In some cases similar provision may be provided by local communities or other organisations but some services will disappear altogether.
"We have already embarked on major changes to the way we work and will see a very significant reduction in the number of people working for the council.
"We anticipate that staff levels will decrease significantly in these difficult times."
BBC Wales understands that up to 300 council staff will lose their jobs in the next financial year.
Mr Jones said that improved income generation was a "vital part" of the council's budget response.
This will include increasing charges for services that already attract a fee such as car parking charges or leisure centre admission.
He added: "We will be discussing levels of council tax. Every 1% increase generates £580,000 in income.
"Additionally we could introduce charges where none previously existed for services such as pre-planning application advice and service charges to other organisations."
The council will also change the way it delivers services by adopting new technologies, working practices or new providers to generate efficiencies.
Mr Jones said: "The public may see some changes in the service presented but crucially the service will continue to operate."
Montgomeryshire MP Glyn Davies said it was inevitable there would be job losses in the wake of the budget reduction.
Unemployment figures
"We must do everything we can to create alternative jobs," he added.
"Since the General Election in 2010 three jobs have been created in the private sector for every job lost in the public sector.
"There has been a staggering 25% drop in unemployment figures in Montgomeryshire in the last 12 months with 220 fewer people out of work than this time last year."
Andrew Woodman, regional organiser for Unison said: "The council has made no engagement with the trade union and they don't seem to have a strategic plan to keep job losses to a minimum."
The council will hold a series of open public events in key towns early in the New Year as well as an online survey and drop-in sessions for key service groups.
Dates and venues for the meetings will be announced by the council on 27 December.