Rare bittern spotted at Cors Dyfi nature reserve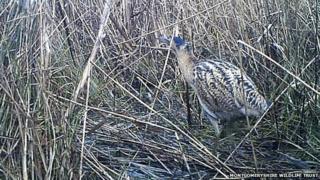 One of Britain's rarest birds has been caught on camera at a Powys wildlife reserve.
The bittern was spotted at Montgomeryshire Wildlife Trust's Cors Dyfi nature reserve near Machynlleth.
It is one of 52 species on the RSPB Red List of the UK's most threatened birds which also includes the cuckoo and the skylark.
Images of the bittern were taken by a stealth camera installed by the trust in reed beds a year ago.
Emyr Evans, Dyfi 360 and Osprey Project Manager for the trust, said the images show how well the bittern camouflages itself in reed beds.
"The bittern were once prevalent in Wales but numbers dwindled over the centuries because reed beds were destroyed," he said.
The majority of the 60 pairs in Britain are based in southern England where there are enough reed beds to allow them to breed.
The bittern is a notoriously shy and secretive bird which is more likely to be heard than seen.
It is often the male's remarkably loud and booming mating call which can be heard over two kilometres away that announces their presence.
"The pairs split up at the end of the mating season in September which is why we are seeing more single sightings of the bittern during the winter in mid Wales," said Mr Evans.
"Cors Dyfi has enough reed beds to accommodate one bittern but not enough to allow pairs to breed."
The sighting was captured on a recently installed stealth camera which is mounted on a tree at the reserve.
"We wouldn't know about the bittern's presence without this camera," said Mr Evans.
"The camera only works when it detects movement and it has also recently captured three otters moving through the reed beds together."