Anger over Cardigan learning disability centre changes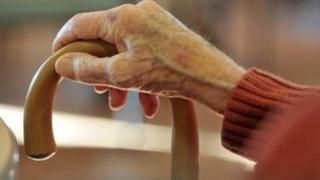 Community leaders have criticised a local authority's U-turn on plans to build a new centre for people with learning disabilities.
Ceredigion Council's cabinet has decided to abandon plans to build a new £475,000 centre to replace the existing building which closed a year ago.
Former users of Canolfan Meugan will now continue to share facilities at a day centre for the elderly in Cardigan.
The council said it would look to improve facilities at the day centre.
But local councillors had claimed there was not enough space for both groups and say they were not informed about the council cabinet's intention to ditch the plan.
Financial constraints
The cabinet has decided to support a proposal for the multi-functional use of Yr Hafod Day Centre in the town.
One of Cardigan's county councillors, Mark Cole, said: "We were told in October the intention was to start work on [a new] Canolfan Meugan so that it would open in early 2015.
"Local members and users of the two centres were not told about the changes and they should have been consulted before this last-minute change."
Another Cardigan county councillor, Catrin Miles, said: "I don't think there is enough room there for everyone and I believe there should be a purpose-built centre for the former users of Canolfan Meugan."
A report told cabinet members that rebuilding Canolfan Meugan was no longer feasible because of the council's financial constraints.
The local authority aims to make savings of £9.6m next year and £20m over the next three years.
The report added that a good relationship had developed between users of both groups since Canolfan Meugan users moved to Yr Hafod in December last year.
According to the report, anxieties which were evident in December 2012 "have now reduced" and a "culture of mutual respect" has been developed.
A Ceredigion Council spokesman said the local authority would look to make improvements at the day centre which would include creating separate offices, demolishing some internal walls and improving toilet facilities.