Call to improve Ysgol Cedewain's 'appalling' buildings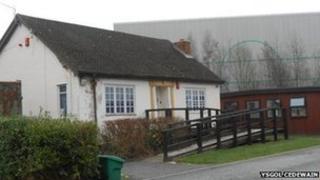 Parents and governors of a special school in Powys have called on the local authority to improve the "appalling" state of its buildings.
Ysgol Cedewain near Newtown has 119 pupils, aged three to 19, who experience a wide range of educational, physical and sensory difficulties.
Parents are campaigning for funding for building improvements.
Powys Council said it did not have enough cash to fund all school projects immediately.
The poor standard of the school's three brick and seven portable buildings was highlighted in the school's most recent Estyn report in January 2013.
"The school is an appalling state," said chairman of the school's governors, Graham Owen.
"The staff work miracles in difficult circumstances but the school is likely to fail its next Estyn inspection because of the poor state of the buildings.
Mr Owen added that sub-standard facilities included mould around the hydrotherapy pool, poor toilet facilities and poor parking facilities for staff and parents.
"We have also asked Powys Council to divert a public footpath which runs through the school grounds which raises concerns about safeguarding children's safety as well as the problem of dog excrement," said Mr Owen.
He also claimed the local authority had not got its priorities right by submitting plans for a Welsh language primary school in Newtown designed for 300 pupils which will cost £8.5m if approved.
"Our school is at capacity so we can't take on any more children who would be best served by being educated here," said Mr Owen.
A Powys Council spokesman said: "The county council is aware of building concerns at Cedewain School as identified in their Estyn report.
"The council is committed to investing in school buildings however there is insufficient funding to fund all projects immediately.
"The council uses an approved system of prioritisation to target this limited funding."