Plea for car park fees to save Hay-on-Wye's public toilets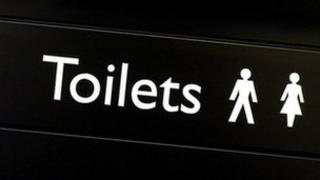 A plea has been made for fees from a car park to be used to help pay for public toilets threatened with closure.
The toilets in Hay-on-Wye, which is home to a major literature festivals and attracts thousands of visitors a year, are earmarked for closure under Powys council's cost cutting plan.
Powys council plans to shut 38 toilets unless community groups manage them.
A petition set up by people in Hay wants the council to use cash from car parks to keep the toilets open.
If Hay-on-Wye's town council takes over the running of the toilets, it says it would need £20,000 a year to keep them running.
It has until the end of December to submit a financial plan to save the town's loos.
Local people have set up an online petition to save the toilets which has been backed by more than 600 people.
Mayor, Robert Golesworthy, said about 100 people who attended a public meeting on Thursday night discussed the town council's plan to ask Powys council to use part of the town's car parking levy to help pay for the upkeep of the toilets.
"The town's car parks raise about £140,000 a year for the council," he said.
"Hay-on-Wye punches well above its weight and is the third most profitable town in Powys behind only Brecon and Newtown with regard to car park fees.
"You don't need to be a genius to work out the council will probably raise its car park fees next year so we will submit a plan asking for part of the town's levy to be used to pay to keep both of the town's toilets open.
"The toilets are used by some of the town's residents but mostly by visitors so it is right that car park fees should pay for these facilities."
Cost-cutting
Mr Golesworthy added that keeping facilities behind the town's clock tower and at the craft centre would cost up to £20,000 a year.
"The county council can offer a £6,500 grant to offset costs if both toilets are kept open but only £1,500 if one of them closes," he said.
But if this plan is rejected by the local authority's cabinet, the town council may have to raise the precept for the 853 homeowners in the town by £20 to raise £17,000 towards funding the facilities.
Powys council estimated it would save £980,000 a year in running costs by handing the lavatories over to someone else to run them.
The decision was part of council plans to save £40m over the next three years.
In November Llanidloes Town Council decided that one of the two public toilets in the town would close because it could not afford to run both of them.
Another 14 of the county council's facilities have already closed.
Other councils in Wales have also looked closing public toilets as part of cost-cutting measures.
A Powys Council spokesman said: "Progress on proposals to transfer public toilets to community councils will be considered by the cabinet."