Ceredigion's first solar park given the go-ahead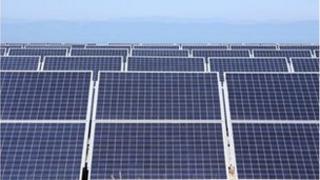 Controversial plans to build Ceredigion's first solar farm have been given the go-ahead by council planners.
More than 24,000 panels will be installed by Elgin Energy on a 42-acre (17 hectares) site at Blaenporth, north of Cardigan.
Opponents argued against the scale of the proposal and said it would open the door to similar projects in the area.
And a nearby airport has reservations because of fears that pilots could be affected by glare caused by the panels.
Barrie Foster, manager of West Wales Airport based 1.3 miles (2.1km) from the solar farm, said he had asked planners for assurances that Elgin Energy would take action if there was a problem caused by glint and glare.
"We did not object to the proposal but wanted to safeguard that pilots will not be affected by glare from the solar farm in the future," he said.
He added that the Civil Aviation Authority had not produced solar panel guidelines yet.
"The farm is directly under the pilot's visual circuit and at the end of the down-leg turn there would be a possibility of glint for pilots," he said.
Gill Chillery was one of 15 householders living near the site of the solar farm who objected to the proposals.
"I live nearest the site and I will have to endure looking at the site from two sides of my house," she said.
1,700 homes
"The initial plans had the panels six feet from my window but they have now agreed to move them 25 metres away.
"Nevertheless, they will still be visible and affect the value of my home."
The solar farm will produce enough energy for about 1,700 homes.
The land on which the site will be built is owned by local farmer and builder, Huw Kurys, who said the farm could be up and running by the end of next summer.
He added that the site would consist of nine adjoining four-acre fields (1.6 hectares) that would not have their hedges removed.
"Sheep will still be able to graze the land because the solar panel rows will be six metres apart," he said.
Dafydd Williams, of Mango Planning and Development, the agents for applicants Elgin Energy, said three reports had been conducted into the effect of glint and glare on aviation.
"Every report concluded that there is no risk to aviation," he said.