Powys Council leader David Jones faces no confidence vote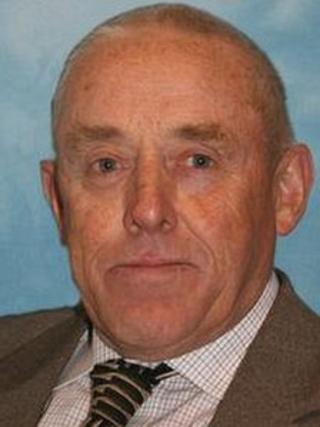 The future of a council leader will be decided in the new year when he faces a vote of no confidence.
David Jones's tenure as Powys Council leader will end if councillors back a motion at an extraordinary meeting of the full council on 10 January.
This follows a no confidence motion put forward by members of a group that had split from his ruling group.
Members of the new Independent Group claim Mr Jones no longer has a mandate to lead the council.
The council leader axed three members of the previous cabinet on 26 November.
Mr Jones defended the sackings in order to create a stronger and united authority to tackle budget pressures.
Budget cuts
Those councillors were from the group he previously led, the Shire Independent Group. They defected with others to form the new Independent Group led by Councillor Graham Brown.
Mr Brown said members of his group had launched the no confidence motion in the wake of Mr Jones's decision last week to join the Powys Independent Alliance (PIA), which now holds all 10 cabinet posts.
"The people of Powys voted in the leader of the Shires Independent Group because they didn't want the PIA in power," he said.
"The PIA is now the ruling administration because of the council leader's actions and this is contrary to what people voted for."
Powys council is facing budget cuts of £40m over three years.
Traditionally, the majority of Powys council candidates stand as independents and those elected come together after polling day to form groupings and an administration.
BBC Wales has asked Mr Jones to comment.