Cardigan Hospital in Ceredigion to close to inpatients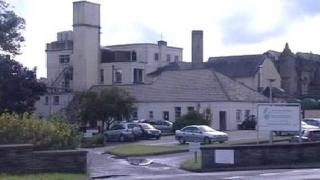 The closure of a community hospital in Ceredigion to inpatients has been called "grim news" by a local assembly member.
Cardigan Hospital will remain open to outpatients but beds will be provided in nursing homes in the community, Hywel Dda Health Board confirmed.
It insists no beds will be lost to the county, while a new hospital is in the pipeline.
But Ceredigion AM Elin Jones said it was "no consolation" to local people.
A deal has been struck to open a £20m hospital in the town in the future, which includes a GPs' surgery.
Gill Davies, interim Ceredigion county director with the health board, said she understood the community may be concerned over the closure to inpatients.
"I'd like to reiterate that a commitment has been made to re-provide beds in the south Ceredigion area," she said.
"The commissioning of alternative facilities will include local nursing homes and residential care and will include extra care."
Ms Davies said the board has a "duty" to ensure services were safe and sustainable.
"We cannot do that within Cardigan Hospital at this time," she said.
'Grim, terrible news'
"Outpatient services will continue to be provided at the building, beds will be provided in the community for those who need them whilst a new, modern purpose designed service is developed to better support patients in the future."
Plaid Cymru AM Ms Jones said it was "terrible decision" by the health board.
"They will probably say that they took this decision because of concerns over the safety of the current service," she said.
"But the reality is that Cardigan Hospital has suffered numerous cuts over the past few months, and has become seriously under-staffed."
Ms Jones said the board had a "long way to go" to restore her faith.
"But it is no consolation to the people of Cardigan , who deserve real care locally," she said.
Councillor Rod Bowen said: "This news should come as a traumatic shock to the people not just of Cardigan, but also the surrounding villages and rural areas, who for many years have been expecting an expansion of health services in the area, with the long-delayed promise of a new hospital and health centre."
The proposed hospital is part of the £50m Bath House project in Cardigan.
The first phase of works started in 2009 when 48 flats for the over 55s were built.
Ceredigion council's planning committee then backed plans for a Sainsbury's store in March 2011.