Tributes to Mandela and Aberystwyth civil rights campaigner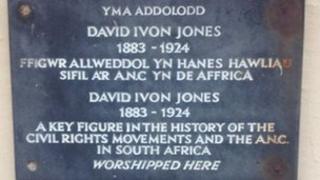 One of the first white activists to champion equal rights for black South Africans is being remembered alongside former president Nelson Mandela.
David Ivon Jones was a founder member of the South African Communist Party, a forerunner of the ANC which Mr Mandela led, in 1921.
There is a plaque honouring him in the church where he worshipped in Aberystwyth
And a Ceredigion Unitarian minister has paid tribute to both men.
Tributes have poured into the late former South African president who died on Thursday at the age of 95.
"It is important that we remember the forgotten heroes of the civil rights movement in South Africa today," said Unitarian Minister Cen Llwyd.
"Nelson Mandela took on the baton handed over by David Ivon Jones and realised his dream of equality in South Africa."
Night classes
David Ivon Jones was born on a farm near Aberystwyth in 1883 and worked in an ironmonger's in the town and a shop in Lampeter.
He moved to live in South Africa in 1909 after converting to Unitarianism as a young man.
He joined the socialist movement in South Africa and was elected general secretary of the Labour Party in 1914.
A year later he broke from the Labour Party to form the International Socialist League which merged into the Communist Party of South Africa (CPSA), making him a founder-member.
He also started some of the first night classes for African workers.
Jones left South Africa to live in Russia in the early 1920s and died in Yalta in 1924.