Historic Book of Aneirin put online by National Library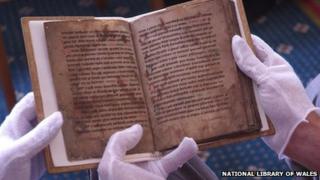 One of the Four Ancient Books of Wales has appeared online for the first time, the last of them to go live.
The 13th Century Book of Aneirin, owned by Cardiff Council and kept at the National Library of Wales, Aberystwyth, is regarded as one of the most important books in the Welsh language.
It was written on animal skin by monks during the last decades of Welsh independent rule.
It contains the Gododdin, one of the oldest Welsh poems ever written.
The Book of Aneirin includes a series of elegies commemorating warriors who died in battle at Catraeth (Catterick, North Yorkshire) around the year 600AD.
The National Library has published the images online to coincide with an exhibition of the four books which is being staged there until March 2014.
This is the first time that the public can view view all four of the early Welsh manuscripts together in one place.
The books were written in a language known as Middle Welsh and date from the 13th and 14th Centuries.
Dr Maredudd ap Huw, manuscripts librarian at the National Library, said the verses were unflinching in their depiction of the horrors of battle.
They recount how 300 crack troops from Manaw Gododdin, near Edinburgh, fought the Saxons at Catterick with only three of them, including the poet Aneirin, surviving the battle.
"Although they went to their deaths, the young men of Edinburgh butchered their enemies, and their ferocity and unrelenting savagery is celebrated by the poet," said Dr ap Huw.
"These youths would 'sooner go to battle than to a wedding feast', and their goal was to ensure that 'the clash of spears echoed in the heads of mothers' as they 'paid for their mead' with their lives.
"They were defeated but their valiant attempt was regarded as being heroic and not in vain."