Anger over closure of Llandysul swimming pool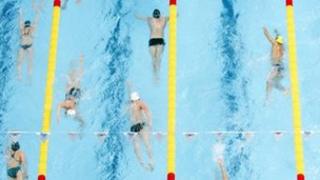 A decision to close a Ceredigion swimming pool was taken before the community was consulted, it is claimed.
Trustees of Llandysul Aqua Centre decided to close the pool by the end of the month after being told of Ceredigion Council's plans to pull the plug on an annual £33,000 grant.
The trustees feared they would have to pay part of the staff's redundancy payments out of their own pockets.
Pool users say they are angry about not being told of the plans.
Two full-time posts, three part-time jobs and seven casual workers will be lost when the pool closes on 31 December.
The pool's trustees met council representatives last week when they were told of the council's plans.
'Raised money'
Llandysul county councillor Peter Evans, one of the six trustees, said: "The financial situation of the pool and the probability of losing the council grant meant the trustees had no option but to close the pool by the end of the year.
"Staff losing their jobs will receive redundancy pay, and there was a real possibility that the trustees would have had to pay part of the money if the pool was kept open.
"I am very angry because local people raised the money to build the pool with the help of local builders giving their free time to help build it in 1971."
Mr Evans said a public meeting to discuss the closure would be held next Tuesday.
Non Mitchell, whose children use the pool twice a week, said parents in the Llandysul area were angry they had not been consulted.
"We need to have a public meeting because a lot of parents are unhappy that there was no warning about closing the pool," she said.
"We haven't had time to discuss how to solve this problem."
'Very sorry'
She added that school pupils may now have to travel nine miles (14km) to Newcastle Emlyn in Carmarthenshire to get swimming lessons.
"Are Ceredigion Council going to pay another county for this service?" she said.
Gethin James, Ceredigion cabinet member responsible for leisure services, admitted it was possible that pupils would have to travel to Newcastle Emlyn in future.
The other options would be journeys to Lampeter (13 miles) and Aberaeron (17 miles).
"I feel very sorry for the people of Llandysul but we have to have a sustainable leisure service - and the other option is to cut the budget to all seven swimming pools in the county by 30% which could result in them all closing," he said.
The council's plan to cut funding for the swimming pool is part of its aim to save £9.6m during the next financial year which is now on hold until it is discussed by a scrutiny committee this month.