Elan Valley estate bids for dark sky tourism boost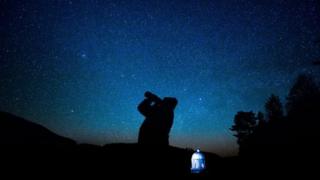 A beauty spot's night sky could gain special protection if it can secure international dark sky park status.
The Elan Valley estate, near Rhayader, covering 18,000 hectares, will submit its bid to the US-based International Dark-Sky Association this month.
The Powys estate aims to attract more tourists by being certified as an ideal site for star gazing.
The only current dark sky designation in Wales is the Brecon Beacons, which was awarded the status in February.
International dark sky parks are areas where the night sky is protected and lighting controls are in place to prevent light pollution.
Sorcha Lewis, head ranger at Welsh Water's Elan Valley estate, said: "Having a dark sky status at the Elan Valley would have a positive impact on the local economy here in mid Wales.
Protect wildlife
"Tourists interested in the night sky would be more likely to come and visit during the autumn and winter months, when tourism tends to be slightly quieter, which would be a huge benefit to local businesses.
"Aside from promoting tourism, we would also educate visitors of all ages about our night sky and show them how they can help to conserve it in their own homes."
Ms Lewis added that dark skies also helped to protect wildlife and the natural environment.
"Many birds and animals are affected by stray light intruding into their night world, confusing their natural patterns of activity and affecting their breeding cycles causing premature breeding," she said.
"As the Elan Valley is an area of spectacular beauty and abundant wildlife, it is crucial that we protect the wildlife of the night by ensuring we look after the dark skies here in mid Wales."
The estate has held a number of events during the past year to promote dark skies.