Anger over plans to cut elderly services in Aberaeron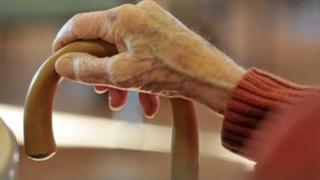 A charity that supports elderly people in Ceredigion has criticised council plans to shut a day centre.
Ceredigion Council's cabinet has approved proposals to relocate services from London House in Aberaeron.
But the plans are on hold until a scrutiny committee discusses the council's bid to save £9.6m during the next financial year.
The building is home to a day centre and houses an Age Cymru Ceredigion office.
The council would save £34,000 a year by moving services from the building and pulling the plug on day-service funding for the charity.
But Age Cymru Ceredigion's co-director, Gwyneth Jones, claims the council has been "lazy to introduce a blanket 5% cut in services".
She added: "The council should look at individual agreements and provide evidence of impact assessments."
Ms Jones said that the charity provided information and advice to 200 clients a month at its Aberaeron office.
It also runs day services at London House which include a lunch club three days a week for 25 people as well as exercise and computer classes.
"Closing London House would have a devastating effect on services in central Ceredigion," she added.
A Ceredigion council spokesman said: "In its meeting on 26 November, the cabinet approved proposals for budget savings.
"This decision was subsequently called in and will be subject to further scrutiny before any decisions are put into action.
"Should the decision remain as it stands, we will explore alternative options to the current luncheon club, and arrangements have already been made to meet with Age Cymru Ceredigion."