Powys Council leader defends cabinet sackings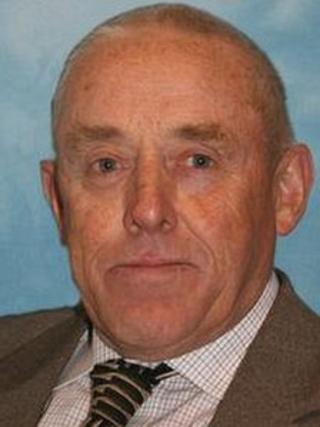 The leader of Powys county council claims he sacked three members of his cabinet to create a stronger and united authority to tackle budget pressures.
David Jones axed three colleagues who were among his Shire Independent Group members who voted against a coalition with the Powys Independent Alliance.
They have defected with others to form a new 12-strong Independent Group.
The leader of this group, Graham Brown, has accused Mr Jones of causing a split in the council.
Mr Jones now leads a minority group of fewer than five members and is still seeking the coalition deal.
Powys is facing a projected budget shortfall of £40m over the next three years.
'Divisive politics'
Mr Jones said the cabinet changes were a difficult but necessary move to create long term stability.
He added: "We have to set aside any differences and work for the benefit of our communities.
"By co-operating with each other we can create a legacy that we can be proud of and not just oversee a series of cuts that hit our communities.
"My decision to change the cabinet was not taken lightly.
"But the greater good of the county and its future services demanded stability and strength.
"There is no room for divisive politics in these difficult times."
The three cabinet members sacked by Mr Jones on November 26 - Graham Brown, Myfanwy Alexander and Garry Banks - have since formed the Independent Group which includes 12 councillors.
Mr Brown said: "I would question whether the very person who has caused the present instability through his leadership decisions is the right person to lead us through the problems.
"He states that the recent changes he made were to create a stronger, united county council.
"However, all he has achieved is to split the council, resulting in him being the leader of a group of only four councillors with a depleted cabinet of five. "