Historic Whitton primary school thrown closure lifeline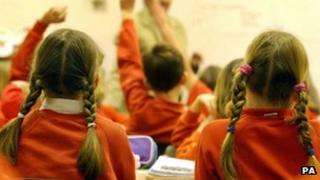 The future of a primary school that has been open for nearly 300 years is still in the balance after councillors decided to defer a proposal to close it.
But Powys council's cabinet has approved plans to open its first "super school" in Machynlleth by September 2014.
Whitton primary school, Presteigne only has 21 pupils.
Powys reviews any school with fewer than 35 pupils.
But councillors have decided to consult with a trust that has backed the school financially for three centuries before deciding on its future.
The council will also undertake a community and equality impact assessment.
Bequest
The high cost of maintaining low pupil numbers was one of the reasons for the proposed closure of Whitton primary school by 31 August next year.
The school opened in a barn in the village in 1724 after Dame Anna Child, who died in 1703, bequeathed £500 to set up a trust to pay for a schoolmaster to teach the children of Whitton and Pilleth.
Dame Anna Child's Endowed School Trust has already offered to pay £120,000 over the next three years to reduce the cost of funding per pupil to the county average.
Graham Skipworth, the school's chair of governors, said the school - which claims to be the oldest non-denominational aided school in England and Wales - was set to increase pupils on its register to 29 by January.
He said: "I am very relieved at the positive response from the council and the trust will consult with the council in the New Year."
Modernisation
Mr Skipworth added that the trust would use a solicitor to oversee any talks with the council.
"The council has also been informed that it will not be able to access any money from the trust if the school closes," he said.
The Powys council cabinet meeting on Tuesday also rubber-stamped the merger of Machynlleth primary and secondary schools for pupils aged four to 18.
The two schools will remain on separate sites in the town but with a single governing body.
The authority has been reviewing schools as part of a modernisation project to cut costs and tackle surplus places.
Last year it closed 10 primary schools and built four new replacements in the Maesydderwen catchment area in and around Ystradgynlais.