Ceredigion class size hike prompts teaching job fears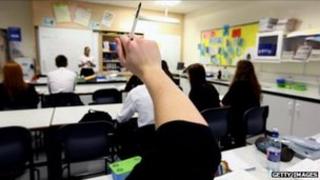 A teachers' union has called on parents to oppose a council's plan to increase class sizes.
The move is part of Ceredigion council's aim to save £9.6m during the next financial year.
Last week the council's cabinet backed a plan to save £2m by raising the pupil-teacher ratio from just under 16-to-one to 17-to-one.
NASUWT claims teachers will lose their jobs and education standards will fall. The council has declined to comment.
The union's policy officer, Geraint Davies, said: "This plan to save £2m is an attack on education standards and will mean teachers will lose their jobs.
Good results
"Common sense states that increasing the pupil-teacher ratio means that less teachers will be needed.
"I hope that parents will be willing to fight for their children's education by opposing these cuts."
Mr Davies, whose union represents about 270 teachers in Ceredigion, claimed the plan would have a negative effect on education in the county which, he said, "has consistently achieved some of the best examination results in Wales over the last few years".
In the report that was backed by the cabinet, council officers said Ceredigion had the lowest pupil-teacher ratio in Wales.
It said increasing the ratio would result in an increase in funding based on a revised formula that would take into consideration "this revised target".
A council spokesman said: "The report is still in the democratic process and it is not appropriate to respond until the call-in period has passed."
In November it was revealed five teachers could lose their jobs and there could be changes to sixth form education in Ceredigion after a £210,000 cut in the Welsh government grant supporting sixth forms.