Candles warning as fire wrecks home at Bwlch y Sarnau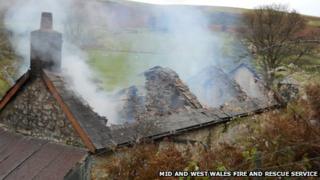 Firefighters are warning about the dangers of candles following a blaze which wrecked a woman's home in Powys.
She suffered minor injuries trying to save her pets in the blaze at Bwlch y Sarnau, near Llanidloes.
The building was gutted in the fire which is believed to have been started by an unsupervised candle, according to Mid and West Wales Fire Service.
Crews from Rhayader and Llanidloes were alerted after a neighbour spotted smoke during the incident on Thursday.
"Take care when using candles especially as we are now in the lead up to Christmas when candles become more common in the home," said Steve Rowlands, fire service community safety manager.
"The fire was sighted by a neighbour and thankfully, nobody was seriously injured at this incident.
"However, the owner is extremely saddened at the loss of her family pets."