April Jones: Appeal fund pays out £80,000 to 23 groups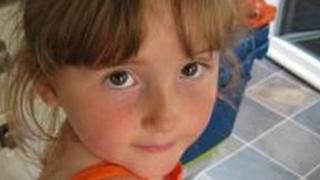 A fund set up in memory of murdered five-year-old April Jones has given around £80,000 to almost two dozen local charities and groups.
The fund was formed just days after April disappeared while playing near her home in Machynlleth, Powys, on 1 October, 2012.
Her former school is among 23 beneficiaries of the donations from around the world.
Mark Bridger was jailed for life for April's abduction and murder.
He has never revealed what he did with her remains, but tiny bones were found in the fireplace of his home at Ceinws.
April's disappearance sparked one of the biggest hunts in police history but her body has not been found.
In addition to her former school, Ysgol Gynradd Machynlleth, some of the search and rescue teams involved in the extensive search for her are among the groups to receive a cheque from the fund.
Another of the groups to benefit is Machynlleth Community Children's Project (MCCP), which runs a nursery for 60 children, an after-school club, a holiday play club for 100 youngsters and a Welsh-language parent and toddlers playgroup.
Many of the project's staff and families knew April and her parents, Coral and Paul Jones.
MCCPs' childcare manager Llinos Jones said: "We are proud to be a part of The April Jones Fund legacy and will continue our commitment to invest in our children's future, offering support and care for the needs of families within the Bro Ddyfi community.
"On behalf of the children, families, staff and the board of trustees, we would like to offer our sincere gratitude for the generous donation that we at MCCP Ltd, have received."
Gwenfair Glyn, the headteacher of April's former school, told the Daily Post newspaper the school was to receive £5,000 towards an "adventure" play area and £2,000 towards an interactive board.
She told the newspaper: "There's nothing there at moment. It will be a nice memorial for April.
"We also plan to plant a weeping cherry tree outside the main entrance and buy an interactive board for our Heulfan room for children who need more support - where Coral used to volunteer."
The fund - which received donations from around the UK and the world, including the United States and Mexico - is expected to be wound up in the near future.