Pitch dog mess stops Llandrindod Wells football game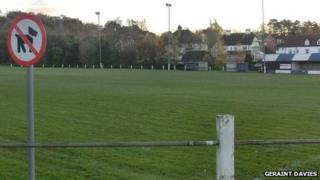 Pet owners have been criticised after a Welsh Cup game in Powys was stopped due to dog mess.
The game between Llandrindod Wells and Caerau Ely was stopped twice by the referee for the clear-up.
Now the club is looking to see how much it will cost to fence off the pitch because of the ongoing problem.
The club secretary - himself a dog owner - said the problem was caused by a few owners who went out at "twilight" and failed to clear up.
"The game was stopped twice for the same mess as it was spotted by a player who ran past, and then when someone went for a bag and water it couldn't be found - but then it was spotted again," said Geraint Davies.
"It's not nice for the players, and it's the same on the rugby pitch next door.
"It's not the dogs' fault, they are just doing what comes naturally - it is the owners' fault."
Mr Davies said the club had approached Powys council about the matter about 18 months ago and signs - and a dog excrement bin - had been provided.
However, this had not solved the problem, he added.
The club is now looking at getting a perimeter fence but that could cost "tens of thousands", he said.
"Teams of every age group play for the club, and from the age of 13 they have to use the full-sized pitch so it involves a lot of players," he said.
"We have to scour the pitch for dog mess when we spike the pitch during the week, and then before each match.
"I was there until 10.30 the other night because we were putting down a concrete slab... and incredibly when we got there the next morning there were footprints and dog poo in the concrete so someone must have taken their dog out after the floodlights were switched off."