Powys council coalition rift leads to new group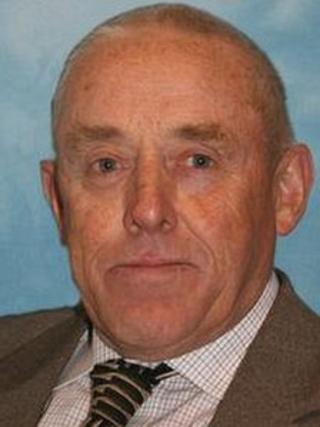 Plans to form a ruling coalition on Powys council have ended in a bitter spilt and the formation of a new group.
Council leader David Jones axed three of his cabinet after they and others on his 23-strong Shire Independent Group voted against the coalition.
They have since defected to form a new Independent Group which has 12 members.
Mr Jones leads a minority group and is seeking coalition with Powys Independent Alliance's 24 members.
Traditionally, the majority of Powys council candidates stand as independents and those elected come together after polling day to form groupings and an administration.
A number of meetings by different groups of councillors were held at County Hall in Llandrindod Wells on Monday but no decision has been announced about the ruling administration's long-term future.
It is believed that the Shire Independent Group had dwindled to five members by Monday afternoon.
Budget proposals
Former Shire Independent Group cabinet members Graham Brown, Myfanwy Alexander and Garry Banks were axed on November 26.
The dispute comes as the cabinet, led by Mr Jones, is in talks over planned service cuts of £40m over the next three years.
Mr Brown said Mr Jones had been concerned that if there was no coalition then other groups on the council would not support the cabinet's budget proposals and he feared the Welsh government would send in commissioners to run the authority.
"We didn't believe that," said Mr Brown.
Mr Brown and Ms Alexander have since formed the Independent Group with Mr Brown as leader.
"The council leader [Mr Jones] has been negotiating with Powys Independent Alliance to form a coalition and three times the Shire Independent Group has voted and three times it has voted against it," said Mr Brown.
"We did not want to be part of a group where members were irrelevant because Mr Jones is forcing through the coalition."
'Open discussion'
Mr Brown said the row did not affect the council's budget plans as all councillors knew what had to be done.
"It's disappointing because the cabinet was doing a very good job. It was beginning to turn things round," said Mr Brown.
"We'd just had the best audit report the council has ever had and the schools are being turned around and we're starting to really make in-roads."
Ms Alexander, who was cabinet member for schools, said the council had "very serious budget issues to deal with".
"We need to solve them by having an open discussion with members of all groups on the council."
"Once again we have a cabinet in Powys with no Welsh speakers on it. Who will raise questions about policies that could affect the Welsh language now?"
Last week, Mr Jones warned communities the "face of public services in Powys will change forever" as the council faces £40m budget cuts over three years.
He could not be reached for comment on Monday.
There are now six parties or groups on Powys council, including Labour, the Conservatives and the Liberal Democrats, plus a number of non-aligned independents.