Hay-on-Wye winter 'warmer' book festival opens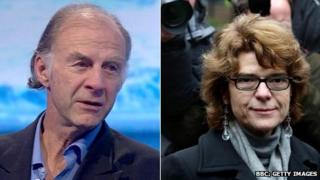 Explorer Sir Ranulph Fiennes and the recently jailed Vicky Pryce are among the names at a literary winter festival in the Powys book town of Hay-on-Wye.
Director Peter Florence says it aims to "warm up the town for Christmas".
Pryce, jailed alongside politician ex-husband Chris Huhne for perverting the course of justice, talks of the economic and human cost of prison.
The three-day festival in the border town is in its 15th year as a companion to Hay's long-running summer event.
Mr Florence said the end-of-year literary weekend began as a way to boost winter trade but now rounds off the festival calendar while promoting some of the following summer's attractions.
"It was designed to give our patrons a chance to visit the town out of season and generate new energy in to the Christmas shopping economy," he said.
"Other things now have joined in, the shops open later, and it's a lovely way to warm up the town for Christmas.
"It's also a way of wrapping up 2013 and give a sneak preview of the next festival."
The winter weekend, which starts on Friday and runs alongside Christmas food and vintage fairs, attracts around 500 people, Mr Florence estimates.
Guest speaker Sir Ranulph Fiennes has led more than 30 expeditions, including the first polar circumnavigation of the Earth, and has endured some of the coldest and most hostile conditions on the planet in pursuit of discovery.
He will be talking about both his own explorations and those of others such as Shackleton, Cook and Amundsen, in some of the world's most hostile and brutally cold places.
Pryce, ex-wife of former Liberal Democrat cabinet minister Chris Huhne, was sentenced to eight months for perverting the course of justice after taking speeding points for him.
The economist - who had claimed her husband coerced her - has written a book about the economics of prison.
Her royalties from the book will go to the charity Working Chance, which helps women with criminal convictions find work.
The main literary festival in Hay-on-Wye, famous for its second hand book shops, is a global brand and has in the past attracted former US presidents Bill Clinton and Jimmy Carter, as well as South African Archbishop Desmond Tutu.
The Prince of Wales and Duchess of Cornwall attended the opening day of this year's festival, the 26th.