April Jones: Call to demolish Mark Bridger's rented cottage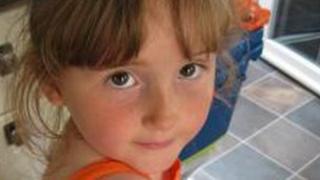 The rented cottage where skull fragments of murdered schoolgirl April Jones were found should not be allowed to become a "monument to evil", says the local MP.
The five-year-old from Machynlleth in Powys was abducted on 1 October 2012 and killed by Mark Bridger, 47.
He has never revealed what he did with her remains, but tiny bones were found in the fireplace of his home at Ceinws.
Montgomeryshire MP Glyn Davies says people want it knocked down.
"At the moment it's a real problem - April Jones's mother has telephoned me, as has the owner of the property. Everybody wants it knocked down," he told the Jeremy Vine show on BBC Radio 2.
Bridger was convicted of April's abduction and murder at the end of a four-week trial at Mold Crown Court in May.
Despite one of the biggest search operations in police history, April's body has never been found.
Her remains were released to her family for a funeral service in September.
'Reluctant'
Mr Davies told Jeremy Vine that due to tight finances it may be difficult for Powys council to consider buying the property and then demolishing it as happened with the home of killers Fred and Rose West in Gloucester and Ian Huntley in Soham.
He said he had also raised the issue with the Home Office.
"The Home Office feel very reluctant to take on this responsibility. I think the local authority may well feel the same," he said.
"At the moment it's a real problem.
"Everybody, I think, wants to have it knocked down. They don't want this as a monument to evil in the small village of Ceinws."
Machynlleth councillor Mike Williams feels the house should be demolished but told the Radio 2 programme that the council may not be able to pay an estimated £150,000 for house, plus further demolition costs.
"Anyone passing that property, it must bring to their minds some very horrendous thoughts of what happened in that property," he said.
"I do not feel the owner of the property should bear the costs of demolition and clearing the site," he said.
A Welsh government spokesperson said: "We will explore what options may be available to address what is a highly emotive issue for April Jones' family and the wider community."
The Home Office and Powys council have been asked to comment.