Electric shock for fish in Monmouthshire and Brecon Canal restoration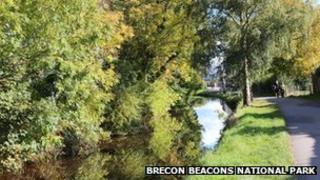 Fish in a canal are to be stunned with a small electric shock so they can be moved before part of the waterway is drained for restoration work.
Glandwr Cymru, the Canal and River Trust in Wales, workers wearing rubber suits will use electric rods on the Monmouthshire and Brecon Canal.
The fish will not be harmed but it will allow workers to safely switch them to an adjacent stretch of water.
The restoration work includes a new lock ladder and gate near Brecon.
'Common procedure'
Glandwr Cymru workers wearing rubber suits will walk through the canal with electric rods and briefly stun the fish.
They will be followed by a person in a boat who will collect the fish and place them in large bins full of water.
The trust said it was quite a common procedure and the work should take about four hours.
Its national ecologist Mark Robinson told BBC Radio Wales: "It's quite a simple process. It's something we do regularly to protect the fish we've got in the canals.
"We generally put a specialised team in there that electrifies the canal."
Mr Robinson gave an assurance that the fish would not be harmed.
"It's in our interest to protect the fish stock that are in the canal and the last thing we want to do is to cause any distress to them or harm," he added.
Glandwr Cymru expects to catch perch, roach and maybe even some pike.
Several sections of the canal will be drained to allow specialist engineers to carry out a detailed inspection of the concrete lining along its base which was originally laid in 1976.
They will be checking the joints of the canal bed and assessing areas of vulnerability so they can plan future repairs to prevent leakages. While it is is drained, a utilities pipe will also be laid underneath the canal.
A new lock ladder and repairs to mortar joints will be carried out at lock 69 in Brynich, while at lock 65 in Llangynidr a new 1.2 tonne lock gate will be fitted, replacing the current gate that has been in place for 30 years.