Powys council to seek people's view over £40m cuts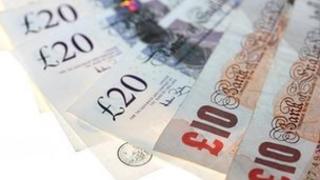 Communities have been warned the "face of public services in Powys will change forever" as the council faces £40m budget cuts over three years.
Residents have been urged to have their say at events in the new year and work with the council to limit the impact.
The way some services are run will change although it is still unclear how many jobs will be affected.
Council leader David Jones said the authority will look at the buildings it owns and services including libraries.
The authority is facing a £20m shortfall in the coming financial year after a 4.5% cut in overall funding.
Many of Wales' 22 councils have started planning for how they will meet budget shortfalls.
In Powys, the authority said it would have to consider the way it provides adult day centres, meals on wheels and the eligibility criteria for adult care.
Mr Jones said: "The scale of the problem means we have to make fundamental changes in the way we deliver services. It is impossible to work the way we have in the past with the funding we have today.
"We have made huge strides in changing the way we work. We have already reduced our spending, we are on target to save £20m this year alone, but now we have to do even more, accelerate the pace of change and to do that we need the help of our communities.
"Powys County Council cannot transform the face of public service delivery alone. It needs the understanding, commitment and co-operation of its communities, and partners in the public, private and third sectors."
Mr Jones said it needed communities to take responsibility for services that it could no longer provide or they could be lost.
"Have no doubt, we are committed to safeguarding the most vulnerable in our communities and to supporting independence," added Mr Jones.
'Cuts'
"We have a clear idea about the areas that have to change although there are no final proposals. We want to discuss those ideas with our communities and hear their views and ideas.
"But, we have to be clear there will be change, there will be cuts. Work with us to help us limit the impact on our communities."
As well looking at the way the council provides adult day centres, provide meals on wheels and the eligibility criteria for adult care, it will look at the buildings it owns, services such as libraries, sports and leisure centres, their numbers and locations.
"As a council we will be doing our part reducing management layers, reducing costs, increasing income where possible and ensuring that we recover costs due to the council," added Mr Jones.
"This may result in a reduction in staff numbers, although it is too early to say how many or where. We will work hard to keep any compulsory redundancies to a minimum. At the end of the process we will have a stronger but more streamlined organisation."
Making an announcement last month about council budgets, Local Government Minister Lesley Griffiths said the total settlement was £4.26bn.
She acknowledged the situation was "extremely challenging".