Brecon post offices' counters out of action for a week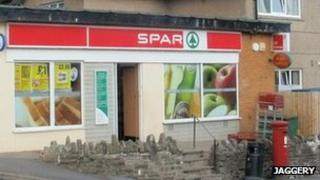 Two post offices in Brecon have been unable to carry out their counter services for a week after being hit by technological problems.
The Co-operative and Pendre post office counters both went down last Wednesday. One manager said they had no idea when the issues would be fixed.
Brecon residents have been told they need to travel 10 miles to neighbouring post offices to access services.
Post Office Ltd has been asked to comment.
Pendre's manager, who did not want to be named, told BBC News website: "We've been down for a week. We rang the helpdesk and they said it was some configuration issue they were dealing with.
"We still have no idea when it will be back online.
"The whole post office and my retail side are affected.
"It's affecting people like old people and mums and young children. They need to access benefits and they're being asked to travel about 10 miles [to other post offices].
"I had one woman coming in with four children. You can't expect her to get on a bus and take all of them with her.
She said staff had tried to work around the problem where possible. "We had to start to write it down manually. We're selling stamps on the retail side and transferring them over to [the post office] side.
"But it's going to cause chaos."
Some customers had walked in and walked straight back out again after seeing the counters were closed while others had become "quite abusive".
The woman said she understood their frustration, adding: "We're doing our best to help them."
The situation is unprecedented, according to the manager who has been there 12 years.
"The old system used to go offline but we're talking no more than a day. I have never in all my years known anything like this."
Brecon resident Ceri Gerrish said customers had been left with no way to send mail, collect pensions or tax cars.
"When you ask how you can access these services you get told to go to Sennybridge or Talgarth which are both about 10 miles from Brecon.
"There are also infrequent buses to these areas so non drivers would have to have a taxi which would cost about £25."
The Cooperative has also been asked to comment.