Emergency flood repairs to Lampeter river bank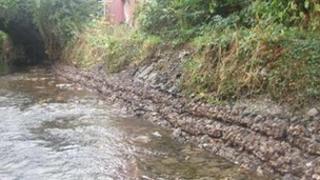 Emergency repairs to a river bank which protects a university, homes, a supermarket and other businesses from flooding have been completed.
A team from Natural Resources Wales (NRW) reinforced the embankment in Lampeter, Ceredigion, after it showed signs of collapsing.
NRW installed a hard rock defence along a 25-metre (over 80ft) stretch of the River Dulais.
The river is prone to flooding and the bank had been damaged by high flows.
The area lies within a Site of Special Scientific Interest and a Special Area of Conservation.
The river is of European importance for its fish population - including Atlantic salmon - river, brook and sea lamprey, as well as an important otter population.
Neil Davies of NRW said: "It was important for us to undertake this work as the riverbank was unstable and if left unattended it could have led to serious flooding of a number of homes, shops and businesses, as well as affecting the university.
"At the same time we had to balance the needs of the local environment, making sure that our work to protect people didn't then impact on wildlife in the area.
"Last time the area flooded 12 properties were affected, impacting on homes and disrupting businesses and people's livelihoods. We hope the work we've undertaken now will reduce the risk of that happening again."