Cardigan's 4CG wins Towns Alive Awards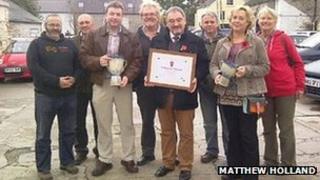 A scheme rejuvenating a community in Ceredigion has been described as a "national inspiration" after winning a British town centre improvement award.
The cooperative 4CG Ltd in Cardigan has been named the overall winner of the Towns Alive Awards which recognise initiatives helping small market towns.
The 4CG scheme was set up to offer cheap, short-stay parking but now runs a range of community-owned facilities.
A community share issue has raised over £300,000 from more than 700 people.
Action for Market Towns, which runs the awards, said the project showed how keeping local money circulating within a local economy had a "multiplier" effect, strengthening the foundations of towns.
It said using the community share issue to provide cheaper local car parking had led to a portfolio of community owned assets generating footfall and income for Cardigan.
Chris Wade, Action for Market Towns chief executive, said: "4CG Cymru 2010 Ltd is a national inspiration for its spirit of self-reliance that is helping turn around a small and struggling town centre.
"Local people have had the ideas, raised the money and delivered the results."
The project has also:
Reopened a shop selling locally-produced products
Renovated an old shed to provide the first home for the Cardigan and District Agricultural and Maritime Museum
Refurbished a derelict cottage to provide an affordable home for a local family
Bought Cardigan's old court house which will be used as a community venue, and the former police station which will be let as office space
Run a market every Thursday, promoting locally grown organic fruit and vegetables
Planned to install wifi masts throughout town, providing affordable internet connections for local people and visitors
There were 95 entries in the Towns Alive Awards from around Britain. 4CG also won the regional award for Wales.
Category award winners in Wales were Aberystwyth Market Hall in the business and economy section; Bay Gallery Arts and Craft Community Gallery in Colwyn Bay and Blaenau Ffestiniog Regeneration Strategy (joint winners) in the environment and culture category; and Welshpool Regeneration Action Plan in the social and community section.