National Library of Wales gets £625,000 for fire repairs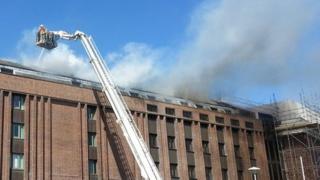 The National Library of Wales is to receive £625,000 from the Welsh government towards repairs to a building following a £5m fire.
The money to help restore the building's roof and top floor is part of a £4.5m funding package for projects at the library in Aberystwyth.
An investigation found that the fire on 26 April was started accidentally by workers using a blowtorch.
Their employers MEM Construction went into liquidation in July.
Culture Minister John Griffiths made the funding announcement after a meeting with the library's president Sir Deian Hopkin and its new chief executive and librarian Aled Gruffydd Jones.
Mr Griffiths said the work would restore the roof and top floor of the building to a "basic operational condition by spring 2014".
He added: "A further £375,000 extra capital funding has been allocated to the library in 2014-15 to assist with ongoing work to invest in the library's building and infrastructure to support its important work."
The minister said the funding was outlined in the Welsh government's draft budget tabled in October.
"The draft budget also outlines an additional £3.5m capital funding provided from Welsh government central capital reserves - £3.3m in 2014-15 and £200,000 in 2015-16," Mr Griffiths said.
"This significant investment by the Welsh government will enable preparatory works for a wider project on conservation, digital preservation and access which the library is developing."