Five Ceredigion teachers could lose jobs over sixth form cuts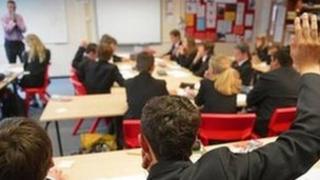 Five teachers could lose their jobs and there could be changes to sixth form education in Ceredigion after a council decision to cut funding for schools.
Ceredigion council said schools' budgets were being reduced by £210,000 after cuts to a Welsh government grant supporting sixth forms.
The Welsh government said a new funding framework for the grant was based on pupil numbers and not budgetary cuts.
The council said changes to sixth form education were inevitable.
The authority said the Welsh government's grant to support post-16 education in schools was being reduced from April 2014.
"Although not the biggest reduction, Ceredigion's loss of 5.33% is greater than the national average," said a council spokeswoman.
"Ceredigion schools will see their budgets cut by £210,000 as a direct consequence. This is likely to result in the equivalent of five full-time teaching posts being lost to the county.
"It is inevitable that the delivery of post-16 education in Ceredigion will alter as a result of this funding reduction."
The council is already looking at scrapping the sixth form at Tregaron Secondary School as part of plans for a new school for pupils aged three to 16.
The Welsh government said councils' sixth form funding had been protected but how it was awarded had changed.
"A new planning and funding framework has been implemented that is based on the number of learners in sixth forms and the average staying on rates," said a spokesperson.
"As a result any reduction in funding for a local authority is primarily due to demographic changes and not budgetary cuts."