Ceredigion bus routes being axed by Arriva to be saved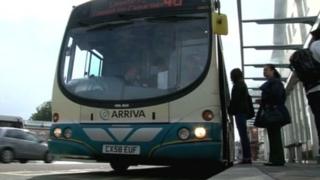 Two bus routes at risk of closure in mid Wales have won a reprieve.
Arriva Buses Wales said it would scrap six services on 21 December, with the loss of 46 staff and the closure of a depot in Aberystwyth and bus stations in New Quay, Lampeter and Dolgellau.
The Welsh government will now fund buses on the 40 route from Aberystwyth to Carmarthen and the 50 from Synod Inn to Aberystwyth until June 2014.
It follows a decision last month to save the X94 from Wrexham to Barmouth.
The 20, 40, 40C, 50, 585 and X94 were all placed under threat following Arriva's announcement on 1 October.
The company blamed cuts in public transport funding and rising fuel costs for the decision.
In response transport minister Edwina Hart said local operators could take over the routes in the short term while longer term solutions for a sustainable network of services were sought.
It is understood the Welsh government is now working on contracts with new bus companies to run the services.
Ceredigion council said following talks last week the Welsh government had agreed to provide £81,000 in 2013-14 and the same amount in 2014-15 for the 40 and 50 routes. The new buses will starting operating on 22 December.
Ceredigion council's cabinet member for environmental services, assets, transport and carbon management, Alun Williams, said: "The 40 and 50 services have previously been commercial routes not funded by the council and it was very difficult to see how we could have found the kind of money necessary to subsidise them when the council has just learnt that it must save £9.5m in the next financial year.
"Behind the scenes the council has therefore been working very hard in the last few weeks to make the case for Welsh government funding for these services that are absolutely vital for local people and to the Ceredigion economy.
"We are very grateful to the Transport Minister, Edwina Hart, for making this funding available and for announcing that in future the routes will be regarded as nationally strategic."
Mr Williams said he was awaiting clarification on whether the 40C route would also be saved.
Arriva Buses Wales is in consultation with the 46 staff who would be affected by the cuts.