Ceredigion schools: Plans to shut five primaries go to consultation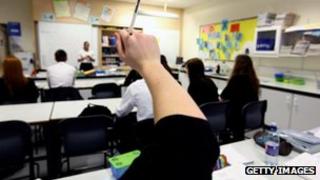 Plans to close five Ceredigion primary schools will go out to consultation in a shake-up of education services.
Pupils at Tregaron and Llanddewi Brefi primaries may be moved to an all-ages expansion of Tregaron secondary school.
The futures of Dihewyd, Trefilan and Rhos Helyg school's Penuwch campus are also in doubt following a Ceredigion council cabinet meeting on Tuesday.
Comedian Matt Lucas has previously supported a campaign to save Llanddewi Brefi school.
Lucas, whose character Daffyd in the Little Britain TV series was the "only gay in the village", wrote to the school in June saying he hoped it would stay open "to support the local community".
But Ceredigion council is looking at moving Llanddewi Brefi school's 43 pupils to nearby Tregaron secondary because pupil costs are too high.
As part of the plans, the authority wants to turn Tregaron secondary into a school for three to 16-year-olds. It could also lose its sixth-form.
Community life
The council is restructuring primary education, saying there are 1,000 fewer children in Ceredigion than a decade ago.
It said Dihewyd, Trefilan and Rhos Helyg school's Penuwch campus had fewer than 20 pupils each.
The council voted to start the consultation over plans to close the five schools at Tuesday's cabinet meeting, which have met with some local objections.
Speaking prior to the meeting, Llanddewi Brefi councillor Rhodri Evans said: "There has been a lot of opposition to the closure plans in all the communities affected.
"Schools are the heart of a community and if they close it is to that community's detriment.
"People come to live in a community because it has a school and that school gives a community life."
A Ceredigion council spokesman said in August that it was committed to "providing a sustainable and successful three-to-16 education system in Tregaron area".
The cabinet was also expected to rubber-stamp a decision to close Cwrtnewydd, Llanwenog and Llanwnnen primary schools near Lampeter, and build a new area school in nearby Drefach.