Aberystwyth seafront like 'war zone' after storm waves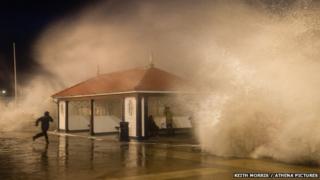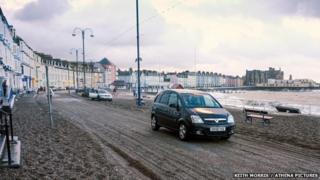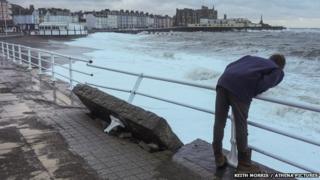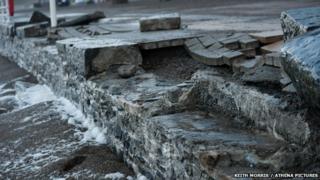 A clean-up operation is under way after huge waves damaged Aberystwyth seafront and dumped shingle on the promenade during the weekend's storms.
Local photographer Keith Morris said the scene resembled a war zone on Sunday morning with some seafront businesses hit by flooding.
Wales battled winds of 89mph (143kph) at the storm's height on Saturday.
Gusts brought down trees and power lines leaving 10,000 properties across south and west Wales without power.
"I have not seen a storm as big as that for decades in Aberystwyth," said Mr Morris.
"There were big granite blocks lifted feet into the air. It did look a bit like a war zone on Sunday morning.
"The power of the waves was astounding.
"One huge wave floored me," said Mr Morris who lost a £4,000 camera while trying to capture the dramatic scenes.
"I'm lucky to be alive - it could have dragged me into the ocean."
Restore power
On the resort's seafront tonnes of stones have been deposited by the waves and part of the sea defences have been damaged.
Ceredigion council workers were involved in the clean-up with wheelbarrows and shovels.
And some seafront businesses including a hotel and gym are said to have suffered basement flooding.
Elsewhere, the storms brought down trees and power lines as engineers worked into Sunday to restore power to everyone affected in south and west Wales.
The highest wind speed was 89mph recorded at Mumbles head near Swansea on Saturday at 16:00 GMT.
Carmarthenshire council says workers have also been helping with a clean-up across the county with damage to properties and parks due to fallen trees and water.
A tree came down on to a roof at the Carmarthenshire County Museum in Abergwili, and a water main burst at Inkerman Street, Llanelli.
The Met Office recorded strong gusts on coasts around Wales from the Bristol Channel to the Llyn Peninsula in north Wales.
South Wales Police received reports of 13 fallen trees in one hour on Saturday afternoon.
On Monday, one flood alert remained in place for Swansea Bay and the Gower peninsula coast, according to Natural Resources Wales (NRW).