Wind farm attitudes in Wales 'more complex' than love or hate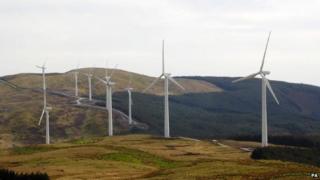 Wind farms provoke strong emotions but a university researcher is finding that attitudes towards them are more complex than a simple case of love or hate.
Greg Dash from Aberystwyth University is looking at how people visiting rural landscapes perceive wind turbines.
He said visitors gazing at them experienced a range of emotions, from memories of youth to powerlessness.
Opposition to turbines in mid Wales has grown since plans were unveiled for new wind farms and miles of pylons.
The National Grid has said the region's electricity infrastructure needs upgrading and last month started public consultation over a 25-mile (40km) pylon route linking planned wind farms in Powys to the national power supply in Shropshire.
In addition to the pylons, National Grid has said eight miles (nearly 13km) of cables will be buried underground in the Meifod valley, near Welshpool.
Social science researcher Mr Dash will take a group of around 30 members of the public on a tour around wind turbines in Ceredigion during the Festival of Social Science on Saturday.
During the past two years Mr Dash has interviewed some 200 people walking in the countryside where turbines are visible.
"It seems that visitors can accommodate the presence of the turbines - they will not stop coming because of them," he said.
"But the responses to these rotating structures on the landscape are often more complex than first appears."
'Hopelessness'
For several people, said Mr Dash, the turbines were a symbol of distrust - the powerlessness of the ordinary citizen within the political process.
"People feel as though these large and imposing structures suddenly appeared on the landscape and they represent this sense of disengagement with the decision making process," he added.
"Talking to the public revealed that these structures reminded people of these feelings, feelings of hopelessness and powerlessness to change the conditions that affect their everyday lives."
Mr Dash said his work was still at an early stage and no firm conclusions could be made, but he said it seemed clear that people engaged with wind turbines in a wide variety of ways and some of them quite unexpected.