Salmon numbers rise in river Wye tributaries Lugg and Arrow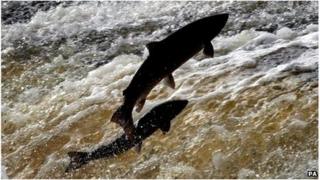 Large numbers of salmon have been spotted in two feeder rivers of the Wye for the first time in 30 years.
The rivers Lugg and Arrow in Powys had been closed to migrating fish by a series of man-made weirs, which led to a sharp drop in Atlantic salmon numbers in the 80s and 90s.
Since 2003, fish passes have been built allowing the salmon to travel upstream.
Surveys carried out the by Wye and Usk Foundation found "encouraging" numbers of young fish throughout the rivers.
They estimate that when operating at full capacity, the Lugg and Arrow catchment could add a further 3,000 to 4,000 fish to the Wye salmon run.
The surveys also found brown trout numbers had improved.
Dr Stephen Marsh-Smith, executive director of the Wye and Usk Foundation, which worked on the project with the Environment Agency (now Natural Resources Wales), said: "It's taken a decade to build these fish passes. The paperwork has been as big a task as actually building them.
"However, once built, they will last for years, ensuring continuity of salmon and trout populations for decades to come.
"We would like to thank all the individuals and organisations that help fund the work, especially the Lugg and Arrow Fisheries Association."