Powys and Ceredigion councils plan to merge education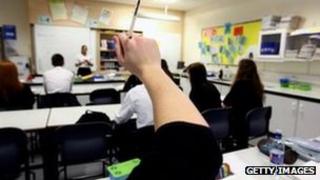 Two councils have drawn up plans to merge their education services.
The cabinets of Powys and Ceredigion councils have agreed in principle to create a joint education department.
They said the move would ensure services across both counties could be maintained in the long term.
In June, a review recommended that the 22 education departments running schools in Wales should be cut by a third and run by regional consortia.
The plan for education is the latest development by Powys and Ceredigion councils to form closer ties.
Last year, they signed a joint 15-year contract with a company to recycle 10,000 tonnes of food waste a year.
In 2011, the authorities' social services departments announced plans to work together, while their highways departments already have close ties.
The councils said a joint education service in mid Wales would ensure the long term sustainability of services across both counties.
"The decision paves the way for groundbreaking work across the two county councils to strengthen the framework for education services," said a Powys council spokesman.
"By working together we can drive up the standard of challenge and leadership that our schools need.
"The arrangement will ensure that there is a range of specialist support available across both areas. It has the potential to improve the life chance for our young people."
Radical
A spokesperson for Ceredigion said the authorities' education departments had already been working together on school improvements.
"This latest agreement between the two authorities will enable them to formalise arrangements for the long term future," added the spokesperson.
In a report in June, Robert Hill, who was an adviser to former Prime Minister Tony Blair, said a "new slim line elected local authorities" could run education.
It followed the release of a Welsh government blueprint in 2011 for radical reform of local government.
It suggested that six proposed regions in north Wales, mid and west Wales, Swansea Bay, Cwm Taf, Cardiff and Vale and Gwent would run education and social care, rather than the 22 local authorities.