Improve custody arrangements, Dyfed-Powys Police told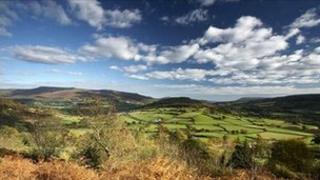 A shortage of trained custody officers in the Dyfed-Powys Police area could pose risks for people who are detained, a report warns.
Unannounced visits by prison and police inspectorates found just three officers oversaw custody and were often called away to other work.
The report called for improved custody management and staff training to ensure good care of detainees.
Dyfed-Powys Police said they had already begun addressing issues raised.
Some of the concerns were:
Only three inspectors oversaw custody and were often diverted from this work by other responsibilities
Staff not trained in or familiar with custody were being used to cover because of a shortage of custody sergeants and detention escort officers, which the report said "presented risks" for operations and detainees
"Inadequate quality assurance" in custody work meant poor care of detainees could go unnoticed
A need to reduce prolonged stays in custody for people waiting to go to court, and the use of police cells for people with mental health needs.
The findings followed joint visits by the Chief Inspector of Prisons, Nick Harwick, and Dru Sharpling, HM Inspectorate of Constabulary.
They looked at five custody suites operating 24 hours a day in Newtown, Aberystwyth, Llanelli, Brecon and Haverfordwest, and two standby suites in Ammanford and Cardigan.
The report noted that Dyfed-Powys served the largest geographical force area in England and Wales and acknowledged that some of the findings and recommendations reflected the difficulties of policing such a big territory.
It also praised areas of work including generally good interaction and engagement between staff and detainees despite the difficulties, staff members' politeness, consideration and sensitivity to a diverse range of individuals, and proportionate and sensible risk assessments.
'Challenges'
Their main recommendations included the need to strengthen management oversight of custody and improve staff training to ensure detainees were properly cared for.
They also called on Dyfed-Powys area health boards to ensure there was sufficient capacity in the right places to offer detainees prompt mental health assessment if required.
In a joint statement, Mr Hardwick and Ms Sharpling said: "The impact of the wide geographical area combined with the paucity of management had led to pragmatic solutions being put in place, but with insufficient consideration given to the adverse impact on detainee care.
"This report provides a small number of recommendations to assist the force and the police and crime commissioner to improve provision further."
Dyfed-Powys Police's Ch Supt Huw Rees said the force had been pleased to see the report acknowledge its staff's strengths in dealing with people, which he said reflected "the values of this force".
"They also acknowledge the fact that we have a wide geographical area to police and the challenge that this brings," he said.
"Some of the issues that they raise are unfortunately beyond our control, e.g. court delays and the lack of alternative accommodation to cells for people with mental health needs.
"We are working closely with partner agencies in respect of these issues.
"The force had already started to address some of the issues raised prior to the inspection and steps are already in place around a number of staffing and training issues."
A training plan has been developed and will be overseen by the Force Strategic Custody Board.