Newtown bypass preparatory works starts after long campaign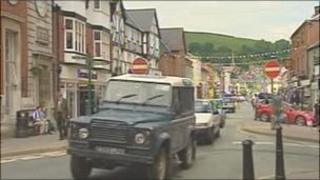 After a 40-year campaign preparatory work has finally begun on a bypass for Newtown in Powys.
Contractors Alan Griffiths Ltd this week got the green light to begin geological surveys of the proposed 3.4 mile (5.6km) route.
Local assembly member Russell George said the Welsh government had confirmed construction work was on schedule to begin in early 2015.
It is estimated to be completed in early 2017.
In the meantime, and to relieve congestion while the works are going on, Powys council and the Welsh government have agreed a series of slip roads around the busy confluence of the north to south and east to west corridors of the A483 and A489.
'Sense of relief'
Montgomeryshire AM Mr George said that it was not only good news for Newtown, but for the whole of Wales.
"The campaign in Newtown has been going on longer than most people who're alive today can remember, but it's had increased impetus with the advance of business and transport around Wales in the last few decades," he said.
"People who live in and around Newtown will feel an enormous sense of relief that things are finally underway after so many false starts, but it'll also improve safety and journey times for anyone who wants to get from one side of Wales to the other."
But while Mr George said the 40-year wait had been frustrating, it had given time to build a consensus about the need for a bypass.
'Teething problems'
"As the amount of traffic has grown over the years, there's been more and more agreement that something needs to be done," he added.
"You'll never get 100% agreement on any road-building campaign, but I'd say from speaking to people in Newtown that there's 90% or 95% support, which is more than I think there's been for any other bypass.
"I won't pretend that there aren't yet a few teething problems to overcome.
"People along the route agree with the road but are horse-trading about the precise route. As their AM I'm doing my level best to mediate whilst still keeping the project on course.
"I'd say that negotiations for the land involved is at an advanced and amicable stage, and I'm confident we'll avoid the need for any compulsory purchases."
However, he emphasised the need for clear signposting along the new road.
"Some of my constituents have expressed fears that people will drive straight by Newtown and local businesses will lose trade, though I'm sure if the signage is good enough we'll still be able to secure our fair share of the tourist trade."