Dyfed-Powys Police warn revellers ahead of Halloween and Bonfire night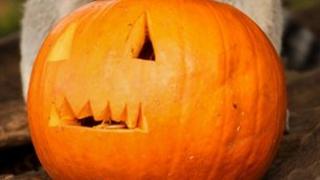 Police have issued a warning against anti-social behaviour over the Halloween and Bonfire Night period.
Trick or treaters are urged to only knock doors where welcome posters - available from police - are displayed.
Officers are contacting shops about the sale of eggs and flour over Halloween, and are also warning about firework dangers.
Patrols will be stepped up and Dyfed-Powys Police said it would react quickly to any anti-social behaviour.
The force is working with the fire service and local authorities as part of the "Be a Nice Guy" (B.A.N.G.) campaign.
Vulnerable
Sgt Mark McSweeney said: "We know that instances of anti-social behaviour can increase at this time of year and some communities can suffer more than others.
"Also fireworks in the wrong hands can cause misery as they are used to damage property as well as threaten or injure people."
He added: "While Halloween can undoubtedly be a great deal of fun, it can also be a particularly distressing time of year for some of the more vulnerable members of our communities - especially the elderly.
"Trick or treaters are therefore being urged to only knock on doors where the poster is displayed."
Trick or treat posters can be obtained by calling neighbourhood policing teams on 101.