Carmarthenshire council meeting to find £30m in cuts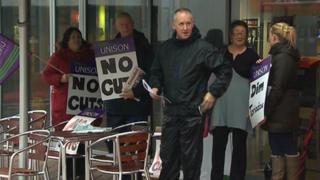 Councillors have met in Carmarthenshire to discuss ways to cut £30m from the authority's budget.
Local businesses were invited to the meeting in Y Ffwrnes, Llanelli, to view 60 possible options for how the savings can be achieved.
The authority has already warned hundreds of jobs could go.
Last week the Welsh government announced Carmarthenshire council's budget for next year will be cut by 3.9%.
Ahead of the meeting, council leader councillor Kevin Madge, said: "Monday's event is probably one of the most important events I will have taken part in during my 30 years as a councillor.
"This event is just the start of a three-month process for determining our budget for next year which will include an extensive public consultation."
Mr Madge said there would be a series of local events for the public who will be encouraged to give their views by post, email or via a consultation section on the council website which will be launched in a few weeks' time.
"We will also be seeking the views of representative groups such as the Citizens Panel, the 50+ Forum, Youth Forum and Carmarthenshire Disability Coalition," he added.
"We will be urging as many people as possible to give us their views as this is a critical time for local government and the decisions we make now will have a long lasting effect for many years to come."